How to play MKV files & MKV File Player
How to play MKV files

An
MKV
file is a
Matroska
file.
Matroska
is an open source
container
format. It is an alternative to the popular
AVI
and
MP4
formats and it also surpasses them in many areas. This article exists to help you understand what an
MKV
file is and how you can play it back perfectly on your PC.
Containers, Codecs and Players
Many people who download a file with the extension MKV will often try to play it back with video player software they have installed on their systems. Most of the time this doesn't work (hence, the reason you are here). While a great selection of players support the playback of Matroska files, often the proper
decoders
for the streams contained in the files are missing. It is important to understand exactly what Matroska files are.
MKV files contain video and audio streams (may also contain subtitles). The streams are likely compressed and have been produced with an
encoder
. In order to play these streams a
codec
is required.
Codec
, as a word is an abbreviation of
Co
der /
Dec
oder. The video stream located in the MKV file has been "coded" by the source and now it must be "decoded" by the end user who wishes to play it.
So to summarize, Matroska is a container format file that stores multiple streams (video, audio and subtitles). These streams may require you to install decoding software and filters to playback depending on what player you use. For most MKV files you find, there is a player not based on
DirectShow
(so you probably won't have to install any extra decoding software or filters) that has support for Matroska files,
VideoLan Client (VLC)
.
The Easiest Method (VLC)

With the VLC player you are actually getting two things; a fine player with support for Matroska, and support for most video and audio streams you will find in an MKV file. This means that you most likely will not have to install any extra codecs or filters, depending on what your streams are.
You can get
VLC for Windows from this URL
.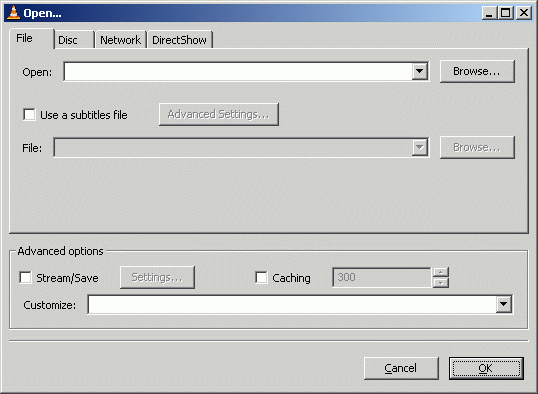 Click
File
and click the
Open File
option.
Now, click the
Browse
button next to the first white line at the top of the window with title "Open.." and navigate through your harddrive for the video you wish to watch and select it. After you have selected the video, click
OK
and VLC will start playing the video you chose.
For other Operating Systems...
Mac:
http://www.afterdawn.com/software/alternative_platforms/mac_software/vlc_for_mac.cfm
Linux:
http://www.afterdawn.com/software/video_software/video_players/vlc_linux.cfm
Important Note:
While VLC will work for most MKV files you will find, the package does not include any proprietary codecs.
RealVideo
and
ON2 VP6
are examples of codecs not packed with VLC for this reason. Therefore with VLC, if you get a Matroska file that contains RealVideo, you are pretty much in the dark and will have to look for another playback option.
MKV on DirectShow based players
Several media players based on DirectShow like
Windows Media Player
will play back MKV files perfectly if you have the proper codecs and filters installed. A great help here is the
Matroska Pack
. This pack is an ideal solution for new users as it installs pretty much all you will need to play MKV files.
What to do when you encounter RealVideo
If you installed a Matroska pack but you have found an MKV file that contains RealVideo then it won't playback on DirectShow based players unless you install the official
RealPlayer
software. Alternatively, if you don't like the RealPlayer software, you can download and install
Real Alternative
and it will also do the trick.
Get Real Alternative from:
http://www.afterdawn.com/software/video_software/video_players/real_alternative.cfm
What about codec packs?
Now, there's one common method that specially people new to digital video tend to use. It can be compared to killing a fly with a sledgehammer or something similar. Its called "codec packs". Basically a codec pack is a collection of the most common decoding drivers
(==codecs)
in the world and the installation file of a codec pack installs all of these codecs to the user's operating system.
Sure, the way has its benefits -- it is highly likely that virtually all of the downloaded videos will play after installation of such pack. But, there are several downsides to this approach. First one is simply the fact that every Windows user knows -- more software you install to your computer, more unstable and "wobbly" it becomes. Secondly, it is really waste of resources to install codecs that are in reality never needed. Third, it is highly unlikely that all the components packed within such pack are the latest and best versions -- downloading and installing each codec individually would be a better approach if user wants to get all the latest codecs in the world installed to his/her computer. Additionally, as nowadays several codecs actually decode several video formats, when a video is played, it is often impossible for a Joe Average to tell which piece of software does the decoding of the video, making it virtually impossible to find the cause of a problem if a problem appears.
Anyway, as stated, codec packs are a popular option to sort out the codec mess and installing such pack would also allow using your favorite video player software instead of all-in-one solution like VLC.
If you wish to try out a codec pack, here are several popular ones:
K-Lite Codec Pack [full]
XP Codec Pack
Cole2k Media Codec Pack Advanced
X Codec Pack
The use of a codec pack is similar to the use of FFDSHOW mentioned above -- download the codec pack, install it and use your favorite video player software to open the .MKV file and it should play.
Using Media Player Classic
Media Player Classic (MPC)
is a must have player if you download a lot of video. Conveniently, MPC also includes support for Matroska with its own
DirectShow parser filter
. Using MPC, you can use several other features of Matroska, like switching between multiple audio streams easily. However, there is a problem (isn't there always?), the parser is out-dated in the latest version of MPC. For this reason, you are better off disabling the internal matroska parser in Media Player Classic and relying on up to date external software (install
Matroska Pack
).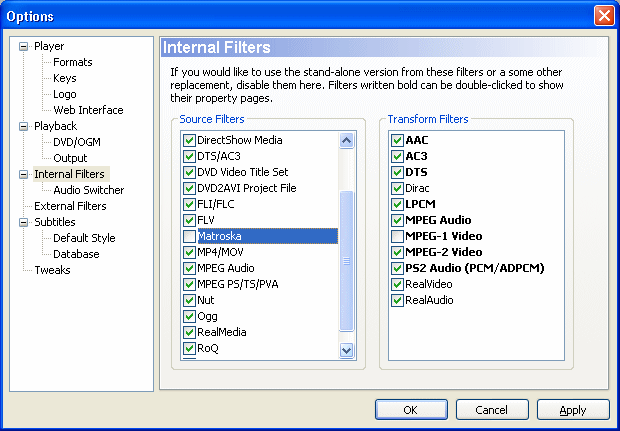 Open Media Player Classic and click
View --> Options
. Select
Internal Filters
on the left as shown above and disable
Matroska
under
source filters
. Install the Matroska Pack now.